trinity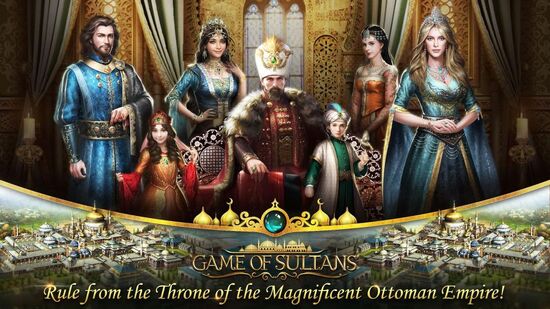 Game of Sultans is a empire simulation RPG mobile game in which you get to experience the life of a Sultan. As a sultan, you can put your strategic abilities to the test by engaging in wars, empire management, political intrigue, and securing your legacy through your heirs.
As a Sultan, you will build a powerful empire with beautiful consorts, powerful Viziers, and many heirs to marry off to the heirs of other real players! The social media and chat room mechanics of the game separate it from other games. After joining a union, you will correspond with your fellow Sultans, create alliances and enemies. Unions will be pitted against each other in the Union Wars. The strength of your Viziers, your heirs, and your consorts fuels the power of your union. Game of Sultans offers game play that is cooperative, competitive, and strategic with new features added regularly.
Development
Game of Sultans was created by Mechanist Internet Technologies, co. Ltd. The game is an old world Ottoman Empire that is not based on any real story. However, the game advertises that the Viziers in the game are loosely based on real persons from that time period[1]. The game was released to Google Play and the Apple Store in June 2018.
Updates
Mechanist announced on 4 March 2019 that the next update, version 1.8, will be launched later that March. The update will include a revamped Feast system, added VIP12 with new consort Honey and Vizier Piri Reis, changes to The Magnificent Five's skill advancement, optimized rewards for Ranking Rush events, as well as bug fixes and performance optimization. The Infinite Horse Rider event is expected to return with the 1.8 update[2].
The most recent update, 1.7.01 added the following on 21 January 2019:
Vanquish
A Consort Ranking Rush for local servers
Vizier limit raised to 500
The ability for players to turn on or off the chat messages
The number of Main Quests has increased to 900
Bug fixes and performance optimization[3]
Controversial Ad Campaign
False advertising isn't new to the game industry and Game of Sultans isn't any less guilty. Some sites like the Kentucky Kernel stated that the ad campaign is degrading toward women[4]. The criticism is fair. Most of the ads seen indicate that this is a Choose Your Own Adventure Story. "Your princess is ugly! What should you do?" The option flashes onto the screen, "Put her on a diet!"' Demi Lovato, horrified by these ads on her Instagram feed, slammed the social media giant by stating, "This is absolutely harmful to anyone who is easily influenced by societal pressures put on us from the diet culture to constantly be losing weight in a world that teaches us to equate our value and worth with the way we look and especially anyone in recovery from an eating disorder," she wrote. "Especially when disorders are all about 'control.'" The singer then demanded Instagram to keep Game of Sultans ads off of her feed and everyone else's[5]. The marketing company that advertises for Xiamen Mechanist Internet Technologies did not comment on the story. Fat shaming aside, the advertisements demonstrate that Game of Sultans is a Choose Your Own Adventure similar to My Story: Choose Your Own Path when Sultans is a role-playing and strategy game with a community of real players. The Official Game of Sultans Facebook page is displaying all of their current ads in which nearly all follow the same false advertising that offended Demi Lovato[6].
Basic Play Mechanics
Player Mechanics
Main Article: Game Play
Players are assigned to one of many servers when they begin the game for the first time. Players may change their server but they will lose their progress in the game[7]. Within the player's server, they'll be able to join a union, connect with real players worldwide, and compete with each other through a wide variety of events. The game also offers Cross-Server events where players can compete with players from other servers around the world.
Social Game Play
The game offers a unique platform for real players all over the world to connect with each other and is programmed with a decent translation feature. While a player may choose to never participate in the chat rooms or join a union, they will still battle against other players in the Arena, marry off their heirs with theirs in the Harem, share rewards in the Frontier, and attempt to outrank them in every other aspect of the game.
The Chat Rooms have a censoring system that removes questionable words with three (***) asterisks. The censor will not only replace profanity with (***) but also generally inoffensive words such as adult that may be used inappropriately. Players are known to get around the censoring by adding a space or a period in the middle of the word. However, this choice does affect how statements are translated for players who speak other languages.
In-App Purchases
Main Article: Purchases
Game of Sultans uses diamonds to purchase a wide variety of items in the game. Diamonds are occasionally awarded for free after completing specific tasks, such as watching five ads, which are available for viewing once per day. Each ad rewards 20 diamonds. Diamonds, among other items, are available for purchase with real world money. The game offers VIP points to purchases, which will award additional benefits, usually an additional Consort or Vizier.
Game Reset
Main Article: Game Reset
Many features of the game, such as purchases, feast visits, etc. reset once per day at 00:00 (GMT -4).
Reference Links